Friday, May 12th, 2006
---
7:38 am
Thursday, November 24th, 2005
---
10:47 am
- Drugburn Vidéo
I'm starting to post some sixties French pop videos on Drugburn... and none of them have been posted on Bedazzled or (as far as I know) anywhere else on the internet before. Check it out!

(x-posted to
french_music)
Friday, November 11th, 2005
---
5:19 pm
- We Set Paris On Fire


Now is the time...here is the Seahorse Liberation Army's "We Set Paris On Fire," final final version. Pass it on!

(Now if only the students would join in.)
Sunday, September 18th, 2005
---
11:19 pm
- Ba ba ba
Monday, August 22nd, 2005
---
9:53 pm
- Rock on, Michel!
Saturday, January 15th, 2005
---
9:48 pm
- le canon de son
and...can we talk for just a moment about modern french pop music? nobody outside of france listens to it these days, really. i must admit that there's something innately sterile about most modern french artists, an unidentifiable quality that screams "you've heard this playing in a trendy fucking clothing store in the 'hip' district of some ramdom city somewhere, but you barely remember it because it sounds so fucking sterile that your brain didn't even register!"

however, there is something faintly alluring about the music of the nouvelle vague--the trendy clothing store managers selected it for a reason, after all. just keep in mind that this is strictly background music/late night listening unless marked otherwise. france couldn't produce a babyshambles or a weird war in 2005 to save its life, although i really wish it would. even the "worst" of the artists mentioned in this post isn't really bad or hard to listen to, just sort of tame and unexciting.




let's start with benjamin biolay. besides being fairly hot, benjamin also happens to be the closest thing france has to a serge gainsbourg these days. he has produced albums by keren ann, april march, and air. coralie clément is his sister. he is considered a sonic genius, and justly so, i think. his solo albums are the typical hush-hush vocal/occasional understated drum machine/delicately strummed guitar/occasional electronic hiccups affair that you would expect from the king of the nouvelle vague. no surprises here, but it's very nice. he also did an album of low-key duets with actress chiara mastroianni.




bertrand betsch isn't too bad. i especially like "les mots ont leur importance" (from his most recent record, pas des bras, pas de chocolat). it's hard to describe any of this music very well--but on "les mots" his voice reminds me a bit of matt bellamy from muse, not that the backing sounds anything like muse's. he seems to rock a bit more than his peers, but there is still the inevitable electronic element that it is impossible to produce a french album without these days.




i love arnaud fleurent-didier because half of his music is in the classic french-soundtracks mode that i so adore. also, the website where i found this picture calls him a dandy. mrrrrrow.




albin de la simone. typicality of music: 9.9. quirkiness: 10. crushability: 8.5.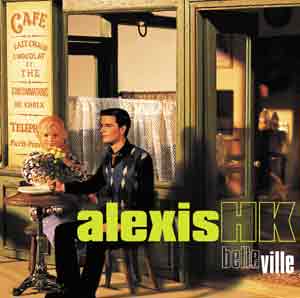 not to be confused with andrew wk, alexis hk plays bouncy-sounding folk coloured with a touch of musette (you know, that shit with the accordions) and samba.




apparently daniel darc has been around since the eighties. his latest album, crevecoeur, was in les inrocks' top 50 albums of 2004, but i find it unremarkable and boring.




florent marchet is one of the few who breaks the typicalement french pop mold...he's not radically, radically different from the rest, but something about his music is sonically interesting, psychedelic, and pop enough to make me take notice.




keren ann is the girl i hope never moves to my town. she has everything i don't: french citizenship, fantastic hair, a pretty-pretty whispery voice, acoustic guitar skillz, and a record deal. she'd steal my boyfriend in a heartbeat. musically, though, she's pretty unremarkable and nonthreatening, although it's hard to resist her velvety neo-françoise hardy folk stylings. she made an album with bardi johannson a few years ago called lady & bird that is, of course, charming. (EDIT: That album was actually by Benjamin Biolay and Chiara Mastroianni. Oops.)




coralie clément occupies the same musical territory as keren ann, but with less folk and more samba. she is also much less threatening to american girls everywhere. coralie, tell your brother to call me, okay?




françoiz breut is yet another horse in the race to be the latter-day françoise hardy, although breut has been at it a bit longer than the others. she is usually mentioned in the same breath as her music partner dominique a.




dominique a himself i haven't listened to in a while, but as i recall he was about as nonthreatening as françoiz...more or less a male equivalent. i didn't realise he was bald until i looked for a picture of him just now.




jean-françois coen makes decent, albeit not great, pop electronique. he looks very french, doesn't he? alas, he has no official or unofficial website. get with it, man! the director of one of his music videos appears to be more famous than jean-françois himself is.




jeanne balibar is one of those actress/chanteuses that france so loves to foist upon the world. her album has a psychedelic cover, and she is fairly charming, but i doubt she's going to blow jane birkin or brigitte bardot out of the water anytime soon. on the other hand, you can apparently find pictures of her tits online if you look in the right place. not much, but it's a start. the album is another slab unremarkable hushed french-language pop, and she clearly doesn't have the chops to compete with the less attractive but way more talented breut or clément.




by the second track on his album, pierre bondu had me hooked. he stole my vintage synth-loving, baroque pop-worshipping little francophile heart. bless him and his fluffy gallic classicism. even if the rest of his self-titled debut can't live up to "vu d'ici," i don't care, I AM IN LOVE.

that's all for now.
Monday, December 27th, 2004
---
12:40 am
- basic black
Sunday, December 26th, 2004
---
4:04 pm
- happy birthday phil spector!
Friday, December 24th, 2004
---
8:10 pm
- holiday angst!
no, not the typical "i hate consumerist holidays" sort of thing. i subscribe to google alerts for phil spector, so if any news story is published that includes his name, it shows up in my inbox. today, this piece of shit found its way into my pedalmail, and i was gobsmacked by the level of complete idiocy that is apparently plaguing its writer, one charles purcell. i can't believe the age (an australian newspaper, i guess) is paying people to write this tripe.

behold:

Musical snobbery has been around since one Neanderthal struck another on the head with a bone and called it a drum solo. Now there is a new form of musical elitism - iPod snobbery.

First, there's the vanity that comes with owning that slimline, beautifully designed instrument, with its white headphones a sign for all nearby muggers that a new client is in town.

Yet the real snobbery is in the choice of music one imports into the iPod; which songs, to paraphrase Elaine from Seinfeld, are "iPod worthy".

Looking at some people's iPod song list is like examining some yuppie's bookshelf, full of books about feminism and architecture in the Weimar Republic that you just know the owner has never read, there simply to impress the casual viewer. So it is with the iPod.

Perhaps scared of admitting that they like Mandy Moore, snobs pack their iPods with music from impenetrable weirdos such as Belle & Sebastian, Sigur Ros, Mum and Bjork. It doesn't matter that the songs are by a collective of 20-something lesbians from Kent singing about how they ritualistically severed the manhood of a university lecturer who gave them a C.

What matters is that the selection doesn't attract scorn from fellow iPod snobs. Otherwise, they might be forced to kill to retain their credibility, like Christian Bale explaining his love of Huey Lewis before going nuts with an axe in American Psycho.

I must confess that the basis for my argument is largely from anecdotal evidence and assessing friends and colleagues' iPods. However, iPod's iTunes can back me up to some degree. The trendy "Celebrity Playlists" from the likes of Fred Durst and Barry Manilow are suspiciously free of sing-in-the-shower-style tunes, although Sting has the courage to include Spinal Tap's Big Bottom on his. And the "download" popularity of half-buttocked hip-hoppers D12 and stupidly named rockers Hoobastank raises eyebrows.
What matters is that the selection doesn't attract scorn from fellow iPod snobs. Otherwise, they might be forced to kill to retain their credibility, like Christian Bale explaining his love of Huey Lewis before going nuts with an axe in American Psycho.

There is room for 1000 to 10,000 songs on an iPod - depending on the size of your, ahem, instrument, which is another source of snobbery - but some artists are destined never to appear on an iPod snob's song list. You won't find William "Captain Kirk" Shatner and his rendition of Lucy in the Sky with Diamonds on an iPod snob's precious machine. Ditto the Bee Gees. Abba is questionable.

And, while Starship's We Built this City might regularly appear in the top 10 list of worst songs of all time, that's no reason to ban its zesty energy and meaningful lyrics about "corporation games".

Meanwhile, Slipknot's People = Shit gets the tick of approval. It's edgy, you know. And anything produced by Brian Wilson or Phil Spector automatically gets the tick of approval, particularly if they were setting fires in the studio or pointing a gun at someone's head at the time.

Sometimes entire decades are verboten. There are those who believe the '80s new romantic movement is yet to be surpassed, but iPod snobs think it was more of a bowel movement. Devo's Whip It and Duran Duran's Hungry Like the Wolf are not for them or their sacred iPod.

NOR will you find Ultravox's Vienna, the height of angst-ridden new romanticism that drove hundreds of sensitive young men to commit suicide in the Danube. (Although '80s Prince is an exception, as is Thriller-era Michael Jackson.)

Nineties dance music suffers a similar fate.

C+C Music Factory's Things That Make You Go Hmmmm is a dance-floor pleaser.

Yet the white-headphone brigade won't have a bar of it. Three minutes of a Tibetan yak being milked at 180 beats a minute? Perfect. Early Kylie? What kind of fool do you take me for?

Finally, there is baby-boomer snobbery, which dictates that no song made after 1979 can possibly be any good. Of course, not being a baby boomer, I don't think any song made before 1979 can possibly be any good.

There's only one solution to this wave of iPod snobbery - for people to embrace their inner Muriel and admit that they like Abba. Or Wang Chung, A Flock of Seagulls or *NSYNC . . . whatever secretly blows their musical skirt up, no matter how daggy.

For me the question is largely academic. After downloading K-Tel Presents The Eighties and Now That's What I Call the Crappy Eighties Vol 1-200, I've only got room for two more songs.

Hmm, two songs . . . that's about how many good songs the Beatles had, isn't it?

wtf? where to even begin? belle & sebastian are impenetrable weirdos? where does he come up with this bullshit?

i wanted to say more, but honestly, just looking at this makes me want to gouge out my eyes. as a fledgling music writer who does not even receive payment for her writing, i am up in arms.
Tuesday, December 7th, 2004
---
5:56 pm
- check it out
Friday, November 12th, 2004
---
12:26 pm
- scandinavian girl groups!
i. must. hear. this. music.



the angeliques



bella and me



the kays



the nursery rhymes



the pearlettes



ringa and kaksoset (from finland; all the rest are swedish)
Friday, October 22nd, 2004
---
4:47 pm
- God I Fucking Love Jack Nitzsche.


the man was a fucking god.

also, i just got a random phone call:

"hello?"
"hello, is david conde there?"
(pause) "david candy?"
"c-o-n-d-e?"
"oh. no." (click)
Thursday, October 7th, 2004
---
11:35 am
- gotta get inside that boy's mind
just a quick post about what i can't stop listening to lately.

camera obscura--"san francisco song" (a b-side off the new "keep it clean" single)
the chitlin fooks (two belgians who want to be gram and emmylou)
magnet--on your side (one of my favourite records this year for sure. magnet is AKA even johansen, if you recall his album from a few years ago.)
dionne warwick--"theme from valley of the dolls"
stevie wonder--"i'm wondering"
anything and everything by rod stewart and the faces
the jeff beck group--truth and beck-ola
peggy lee--"why don't you do right"

once i finally get smile downloaded, i'm sure it will also make the cut.

PEDAL
Monday, October 4th, 2004
---
5:42 pm
for better or worse, my new haircut looks pretty much like this:


Friday, August 20th, 2004
---
7:12 am
- think about it!
Wednesday, August 11th, 2004
---
5:48 pm
- fresh
Friday, August 6th, 2004
---
5:17 pm
- RIP
Sunday, July 18th, 2004
---
12:23 am
- show and tell
record shopping update: although i found near mint copies bobbie gentry's ode to billie joe and dionne warwick's soundtrack to valley of the dolls, that was not today's record shopping highlight. not even close.

the highlight was finding all of these in a thrift store (and ganking them):

stevie wonder--superstition/you've got it bad girl
joe simon--fire burning/music in my bones
marvin gaye--ain't that peculiar/she's got to be real
bobby womack--lookin' for a love/let it hang out
jackie wilson and lavern baker--think twice/please don't hurt me
the temptations--the girl's alright with me/i'll be in trouble
tyrone davis--you wouldn't believe/there it is
nina simone--it be's that way sometime/(you'll) go to hell
the emotions--show me how/boss love maker
al green--strong as death (sweet as love)/oh me, oh my (dreams in my arms)
chad and jeremy--a summer song/no tears for johnnie
the emotions--i never could be happy/i've fallen in love
b.t. express--express/same
al wilson--touch and go/settle me down
jackie wilson--i'm so lonely/no pity
the temptations--zoom/heavenly
betty wright--one thing leads to another/it's bad for me to love you
aretha franklin--share your love with me/pledging my love-the clock
b.b. king--i'm gonna do what they do to me/losing faith in you
the beginning of the end--funky nassau part i/funky nassau part ii
al hudson and the soul partners--my number one need/alone she's gone

bow down, mortals. this is one of my most fruitful expeditions ever. besides all that, i saw two cars get into a wreck on the south side and found the sexiest red and white men's swimming trunks in the world.

all i want now is to find some sam cooke on vinyl, and maybe to win those french ebay auctions...because records are a thousand times more worthwhile than boys. have i ever dated anyone who looked as good on my arm as my original copy of kick out the jams? nah.
Saturday, July 17th, 2004
---
12:00 pm
- now i've done it
remember that tiny record player i mentioned a few entries back? well, a few minutes ago i removed the screw from the top of the stylus so i could take the needle out to bring along to the store. however, the needle was still connected to by a black wire and a red wire coming out the back. the red wire came out of its own accord (i couldn't tell if it was broken or not), but the black one stubbornly refused to move. then, although i was pulling on it very, very gently, it suddenly broke, leaving the fat part of the wire that i think of as the end still attached to the little rubber tube coming out of the needle.

at a time like this it's not so good to know jack shit about things like this. have i ruined it forever? is it going to cost me more than i even paid for the record player to get this fixed?

i've tried googling, but there's no brand name that i can find on the player. all it says is "go go transistor phono" on the top. other needles with the same brand name as the original (arco) are nowhere to be found, either.

son of a bitch.
1:30 am
- healthy young drug addicts